Bradley Beal Elite tipped off the 2023 Nike EYBL season in earnest over the weekend with strong performances across the board for 17U, 16U and 15U.
They did it all with BBE royalty in the building. Not only was Brad Beal there for his team, but Jayson Tatum stopped in on Saturday, on an off day in Atlanta during the Celtics' playoff series with the Hawks. Larry Hughes also joined the duo, making for three generations of Bradley Beal Elite/St. Louis Eagles in the building.
Saturday was a heck of a day for the teams at all three levels as, with Tatum and Hughes watching on for part of the day, they won all six of their games
BBE 17U ENDS WEEKEND ON HIGH NOTE
The BBE 17s bounced back from a 71-50 loss to Team Takeover on Friday to win their final three games of the weekend.
Early Saturday, they defeated City Rocks 52-49 behind a 12-point effort from Lathan Sommerville and 9 points and 8 rebounds from Jordan McCullum.
The 17s followed that up with a 67-66 dub over Florida Rebels on a game-winning layup by Class of 2025 prospect Jeremiah Fears with four seconds remaining.
2025 G Jeremiah Fears scored the game-winning bucket & put up 16 points on 6-10 shooting in a Brad Beal victory over Florida Rebels today at EYBL Atlanta. Not a bad showing in front of John Calipari, Tom Izzo, and many more while playing up in the 17U division.@jeremiahfears2 pic.twitter.com/vkFV3IUpzG

— Trent Markwith (@TMarkwith14) April 22, 2023
The win over Florida Rebels was the highlight of the weekend for the BBE 17s. Collectively, they shot 61 percent from the field and 46 percent from deep in the win. Fears was one of three players in double figures in that big win, leading the way with 16 points on 6-of-10. Tyler Tanner added 13 points on 6-of-9 and Jordan McCullum pitched in 12 on 5-of-6.
In Sunday's final session, BBE defeated Team WhyNot 74-64 to finish the weekend with a 3-1 record. McCollum scored a BBE weekend-high 17 points in that win while Fears added 11 points and Sommerville had 10.
McCullum was the weekend scoring leader, averaging 10.3 points per game while shooting 63 percent from the field and was selected as an Honorable Mention for the All-Event Team.
Landren Blocker had 8.5 points per game, including 16 in the opener against Team Takeover.
He also was responsible for the highlight of the weekend.
Tyler Tanner also averaged 8.5 points per game and turned heads with his defense, tallying 11 steals over the four games, resulting in him being named to the All-Event Defense and All-Event Breakout Teams.
BBE 16U SHINES ON SATURDAY
The Bradley Beal Elite 16U team also had an outstanding Saturday, winning both of their games.
They started the day with a 58-50 win over Team Melo. Ezequias Walker tallied 15 points in the victory and Luke Walsh added 14 while Zyree Collins pitched in 10 assists.
They followed that win with a 73-68 dub over Florida Rebels.
Walsh led the way with 21 points. Jayden Johnson added 15 and Jai Hayes had 14 points while Collins kept up his elite-level passing with eight assists.
While they dropped their first and final game of the weekend, the BBE 16s could still leave Atlanta with their heads held high.
Luke Walsh finished the weekend averaging 13.8 points per game and shot 41 percent from three. Jayden Johnson averaged 12 points per contest and impressed all over the court.
Additionally, Nicholas Randall came through with a team-high 23 rebounds during the event, nearly 6 per game, and Zyree Collins averaged 6.5 assists per game.
IMPRESSIVE 4-1 WEEKEND FOR BBE 15U
Not to be outdone, the Bradley Beal Elite 15U team played five games and won four of them, falling only in their last one, by just two points, to Team Takeover.
It started with an 81-72 win over Mac Irvin Fire, a game dominated by Kain Mccaskill, who scored 27 points on 10-of-13 shooting.
2026 PG Kain McCaskill of @BradBealElite 15U had a very impressive opening performance at the Nike EYBL in Atlanta with 27 points. Broke down defenders with his quickness and hit 3-pointers. Attends @vashon_bball

— Prep Hoops Missouri (@PrepHoopsMO) April 22, 2023
JaShawn Andrews also had a big game, with 19 points.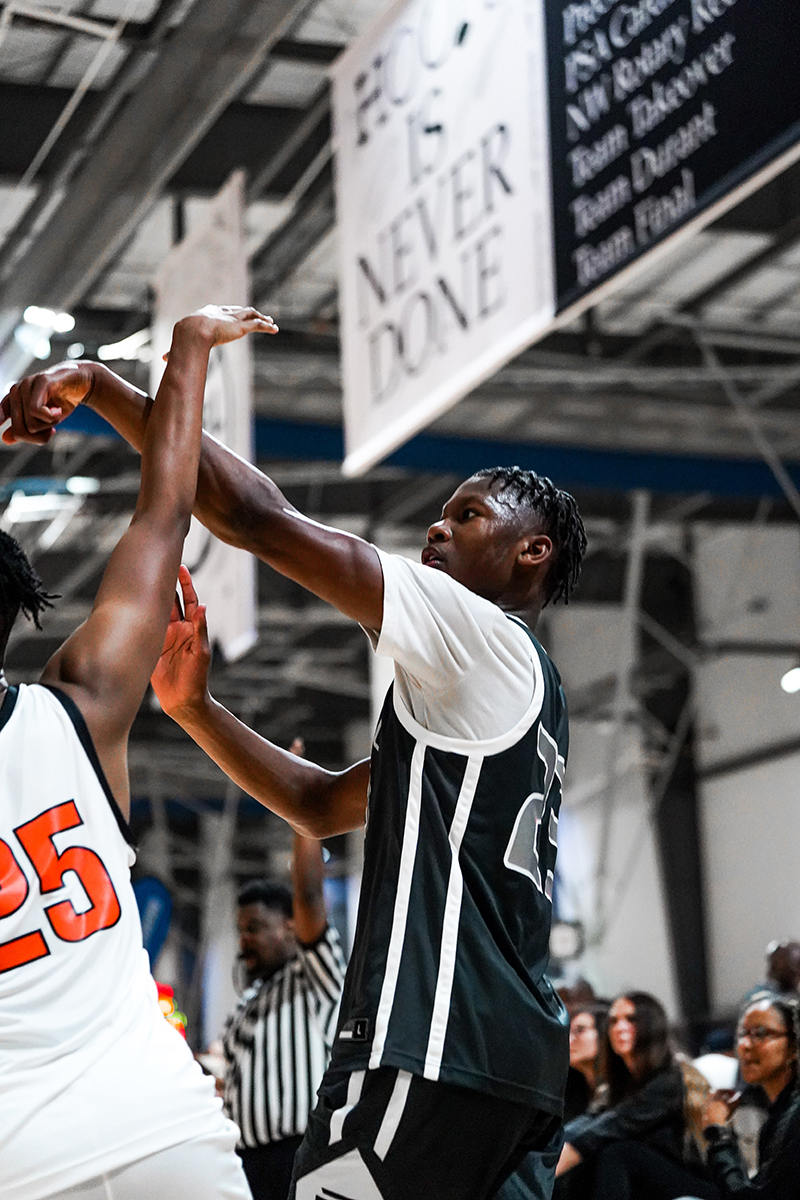 The 15s were back at it on BBE's undefeated Saturday, defeating NJ Scholars 71-51 and JaShawn Andrews kept up his outstanding weekend with 15 points in the win. Later Saturday, The 15U team engaged in one of the best games of the weekend with Team United and at the end of a back and forth battle, Trey Pearson turned a steal into a fastbreak layup that proved to be the game-winner in a 69-67 BBE victory.
Andrews again led the way with 17 points in that win. Mccaskill added 13 and Trey Pearson's game winner was two of his 11 points. Sheek Pearson also had a big game with 10 points on 5-of-5 from the field and nine rebounds, just missing a double-double. Jaylan Mitchell added 11 points and seven boards.
Mitchell kept it up on Sunday as one of three players to score 16 points in an 80-62 win over Nightrydas Elite. The others were Andrews and Trey Pearson, the trio combining for more than half of the team's points in the route, which brought them to 4-0 for the event. Unfortunately they couldn't finish the perfect weekend, losing another tight game with Team Takeover, 59-57 despite 19 points and eight rebounds from Mitchell, 15 points from Mccaskill and 11 from Andrews.
Mccaskill, Mitchell and Andrews drew rave reviews for their play throughout the weekend.
2027 -6'6 G @JaylanMitchell1 of @BradBealElite 15U is regarded as the top player in his class & it's not hard to see why. ELITE talent that can score from anywhere on the court with a beautiful jumper. His size & length for position make him versatile on both ends of the floor. pic.twitter.com/IV52pODgzR

— NextUpRecruits (@NextUpRecruits) April 22, 2023